Annual, Lifetime or Bundle Member? Click here.
MIC Jumpstart Accelerator
Our A-Z Curriculum for all new members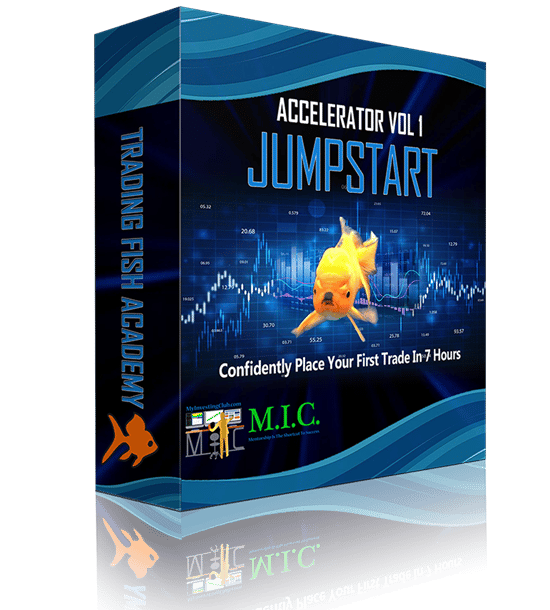 The MIC Jumpstart Accelerator is a 7+ hour, one-of-a-kind, step-by-step trading course filled with educational content that will guide you from knowing nothing about day trading stocks to becoming a self-sufficient day trader finding your own stocks, making your own plans & placing your own trades in the stock market in just 7 hours!
ACCELERATOR TABLE OF CONTENTS
• Chapter 1 – What Is Day Trading?
• Chapter 2 – Stock Terms
• Chapter 3 – What is Resistance and Support?
• Chapter 4 – Stock Splits
• Chapter 5 – Sector Hype/Craze
• Chapter 6 – Edge – What is it?
• Chapter 7 – MIC Patterns
• Chapter 8 – Short Selling
• Chapter 9 – Brokers, Regulations & Software
• Chapter 10 – LEVEL 2/Market Depth & Tape Reading
• Chapter 11 – Market Hours
• Chapter 12 – Scanning Software
• Chapter 13 – MIC Analysis & Research Process
• Chapter 14 – Frontside Vs. Backside
• Chapter 15 – Building a Watchlist
• Chapter 16 – Live Market Analysis
• Chapter 17 – Risk Management
Accelerator Course Resources

A Valuable Resource Pack Is Included With:
Custom Thinkscript Scripts for ThinkOrSwim
Spreadsheets and Calculators
MIC Jumpstart Accelerator Reviews
The Accelerator course is exactly the perfect tool needed for a trading novice hellbent on learning the foundation, proper process and nuances of this profession.
I have gone through numerous "Gurus" and none have been so transparent is showing their process, none have helped their members become self sufficient and they always up sell their "additional, exclusive, diamond package for only $10K".
Thank you guys for truly caring, motivating and teching us to a point where we can call ourselves traders. It is a liberating and empowering position to be in.
The new MIC Accelerator Course is outstanding. The content is complete and clear. After absorbing the entire content, a new trader could hit the ground running and master concepts very quickly. I would eagerly recommend this course to anyone who wants to avoid years of frustration.
To my fellow MIC'ers who have access, strongly encourage you to watch the NEW 7 hour video. You can see the amount of effort put in this, confirms again my joining MIC was a good thing. Even us old folks can continually learn.
I actually finished this video a while ago and I must say this should be a MUST for anyone starting with trading. Everything you need to know is there for you to build a solid foundation! Huge thanks to @joekelly [Head Moderator] for creating this! 
Absolutely the best trading tool I have ever used. After floundering for 2.5 years trying to trade on my own I came across MIC and their new Accelerator Course. It is designed for the beginner all the way up to an expert trader. With the strategies that MIC teaches, the one on one phone calls and the massive library of videos, MIC is a place that has all the essential tools to help you become a successful trader. I've been around the block so take it from me when I say THANK YOU MIC for taking the time to produce this course and helping me become the successful trader I am today.